Caramel Confectionery
made with love❤️

made with care

made for you.
Life is Short. Make it Sweet.
Our Kick-Ass Caramel Products
Quality Ingredients. Incredible Flavours.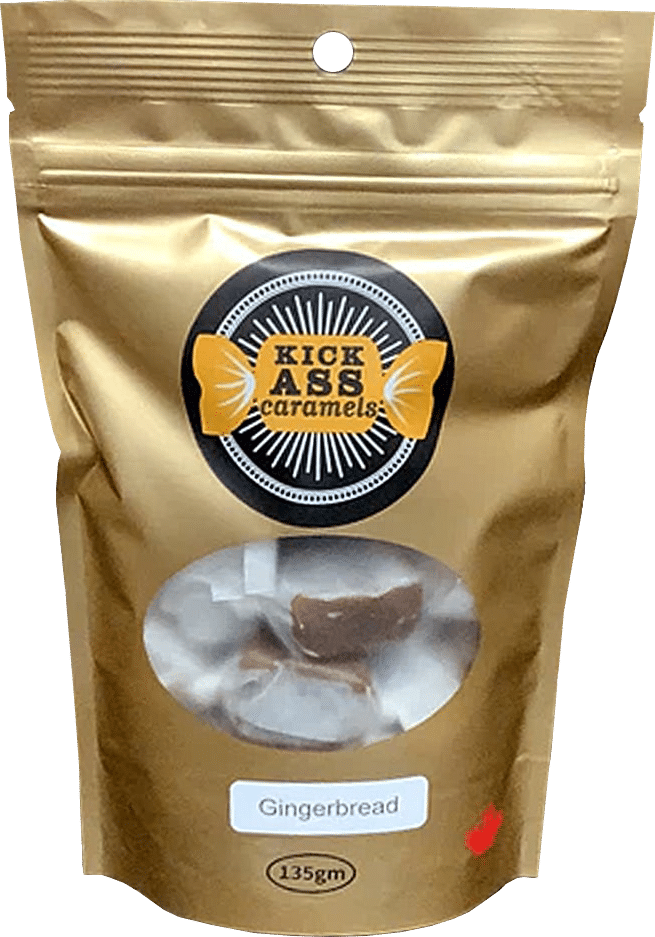 Quality Ingredients
Kick Ass Caramels uses only the freshest ingredients. The basis for all of our flavours is four simple things.
Sugar, butter, cream, corn syrup.
There's nothing mysterious about it, there are no chemical preservatives, and everything is made by hand. Every caramel, is created, cut, wrapped, cellophane, and packaged with love… You won't find 'love' on our ingredient list, but we can assure you that it's in there!
Just to be clear, all of our caramels are wrapped in traditional old-fashioned wax paper wrappers, and bagged for freshness… You're welcome.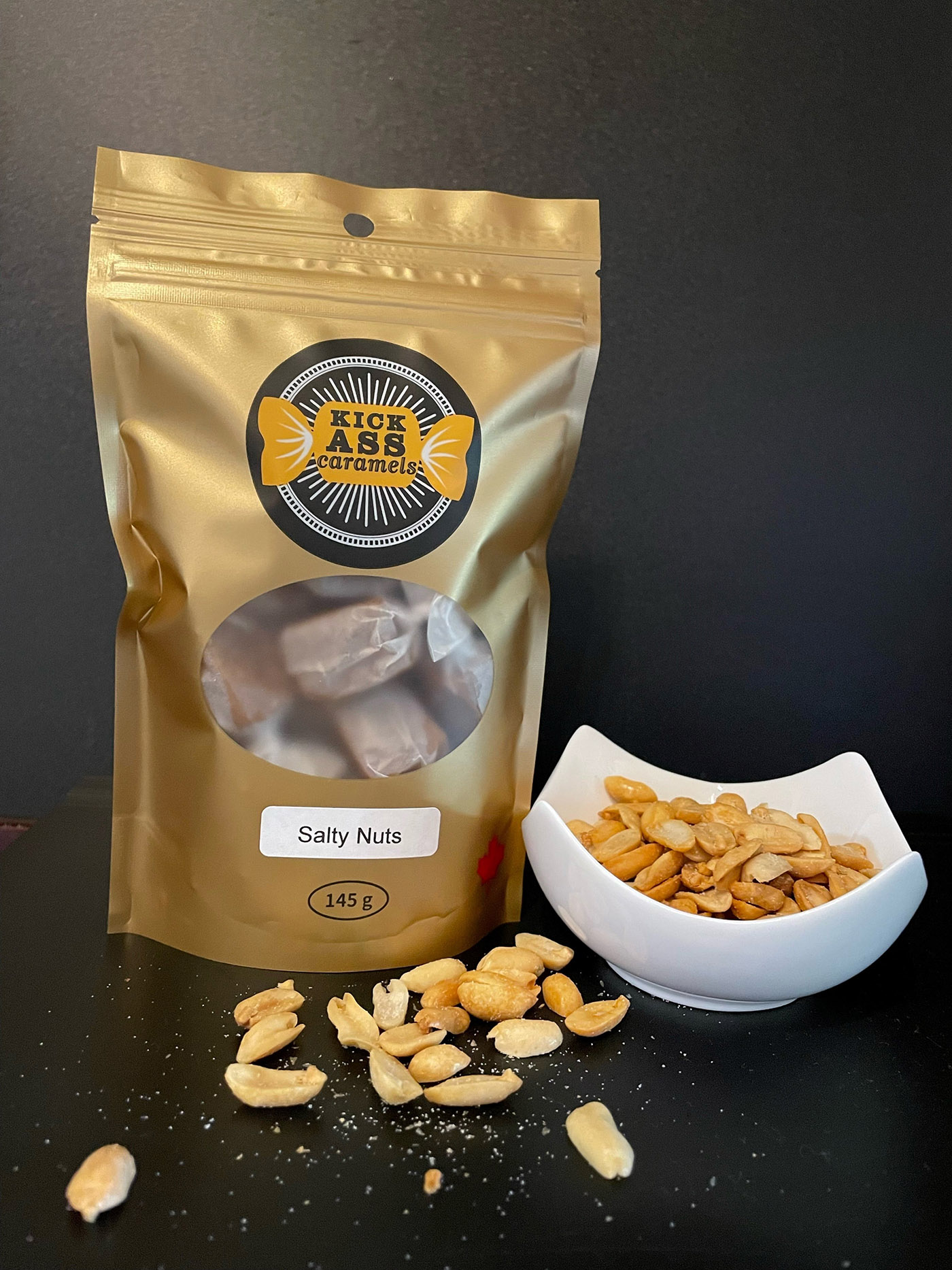 Feature Flavour: Salty Nuts
Only Available Until June 30th!
🥜 Salty Nuts Caramels: Go Nuts, Have a Ball, or Two!
Are you tired of the same ol' sweet talk and ready for a flavor that will tickle your taste buds with titillating delight? Get ready to loosen your tie, let your hair down, and buckle up for our brand-new Salty Nuts Caramels.
Our Salty Nuts Caramels are a seductive blend of sinfully sweet caramel, daringly salty nuts, and a risqué sense of humor. It's an illicit love affair between sugar and salt, between candy and nut, that will send your senses into a tizzy. This ain't your grandma's candy, folks. Unless your grandma is a wild, rule-breaking rebel, in which case, you go, grandma!
Each piece is an explosive party in your mouth. The flavor is like a saucy salsa dance, with sugar swaying to the rhythm of salt, and caramel and nuts locked in a passionate tango. They're so good, they'll have you saying, "oh, nut again!"
Get ready to go on a wild, tongue-tingling ride. Just when you think you've reached the peak of caramel ecstasy, a rush of salty nuts comes in like a gust of mischievous wind under a kilt. It's the Hugh Jackman of candies – irresistibly handsome, a bit rough around the edges, and brimming with uncontainable charm.
Our Salty Nuts Caramels are here to break the candy status quo. They're the Marilyn Monroe of the caramel world – a bit curvy, not afraid to show it, and unabashedly sensual. They're not just a snack; they're a walk on the wild side of the snack aisle.
Unwrap a Salty Nuts Caramel, and let the good times roll. Each bite is a ticket to a carnival of taste, a burlesque show of sweet and salty. They're the Victoria's Secret lingerie of the candy world – they leave just enough to the imagination.
Salty Nuts Caramels: because you're not just a grown-up, you're a grown-up with a wicked sense of humor and an appetite for the audaciously delicious. You're never too old to go a little nuts!  🥜
More Than Just Caramels
If you're a caramel fanatic, then welcome home, sweet home! Here at Caramel Central, our obsessive (and frankly, bordering on the unhinged) passion is to custom-craft our infamously addictive, gourmet caramel cubes.
Our collection includes everything from caramel sauce that's practically illegal in seven states, to caramel-scented candles that'll have your house smelling so sweet, even your grandma will ask what you're up to. And let's not forget our peanut brittle – it's so exceptional, your teeth might file a restraining order.
These are just a few of the sinfully sweet specimens you'll find bubbling away in our Kick Ass kitchen – a place where sugar and spice live out their wildest fantasies. Enter at your own risk; your waistline has been warned!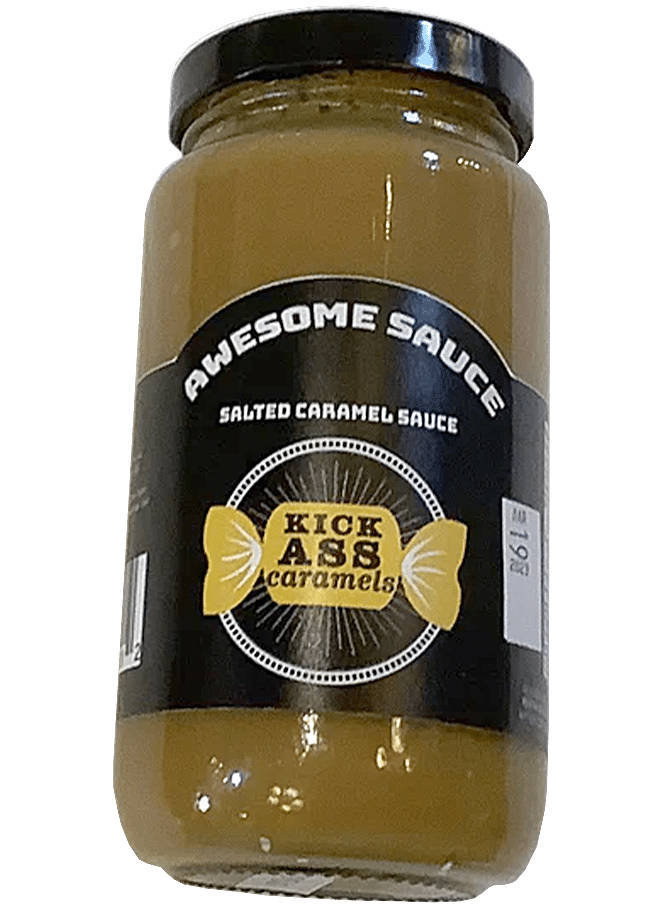 Salted Caramel: Our Salted Caramels: the tantalizing teeter-totter between sugar and salt – it's like the Fifty Shades of Candy, only far more palatable.
Caramel in the Nude (Plain): Nothing says risqué like our 'Caramel in the Nude,' which strips caramel down to its bare essentials – it's so exposed, it should probably come with a parental advisory sticker!
Buttered Rum (Tastes like the old Lifesavers): Pop our Buttered Rum Caramels for a deep dive into nostalgia; it's like sucking on a 70's disco ball, minus the questionable fashion choices and disco inferno.
Cherry Almond (Tastes like Nibs with almond slices): Our Cherry Almond Caramels are the candy equivalent of a rock concert where cherries smash the guitar and almond slices crowd-surf – remember to bring your earplugs!
Canadian Maple: Our Canadian Maple Caramels: it's like getting a warm, sticky hug from a shirtless Canadian lumberjack – and let's be honest, who wouldn't maple-leave in that?!
Black Licorice: Indulge in the noir allure of our Black Licorice Caramels, it's like flirting with the dark, mysterious stranger at the bar, only less commitment and fewer questionable life choices.
Order Your Caramel-Flavoured Ass-Kicking Now!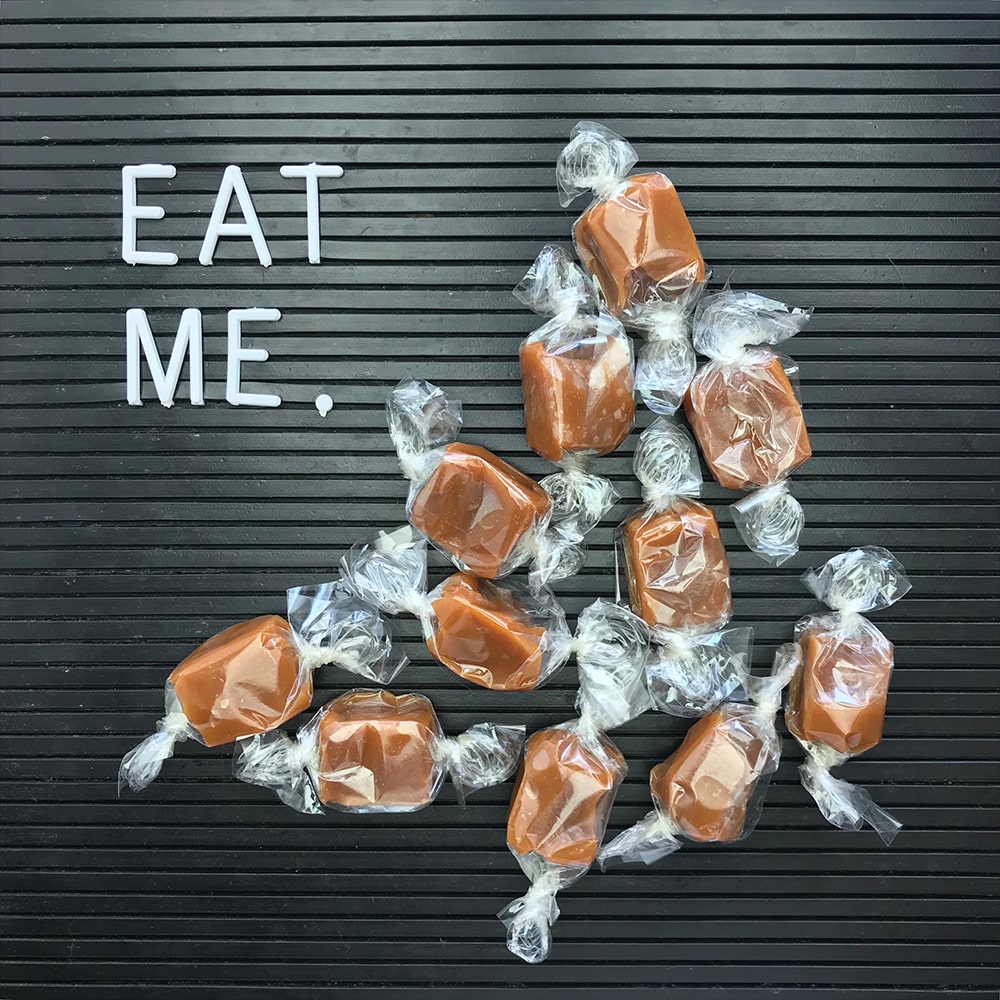 Their salted caramel sauce is also delicious....over everything! I love it as a dip with tart Granny Smith apples

Susan S.
I can't go into her store without spending no less than $50! Best ever! No one can change my mind! Btw- the jar of sauce is AMAZING too. Eaten by the spoonful of course!

Tabitha J.
The BESTTT

Daina K.
The cherry whiskey and licorice ones are my weakness!

Jeannine R.
Love these guys so much. These caramels are sinfully good lol

Midori A.
The mint ones and butter rum are chefs kiss!! Eat the whole damn bag good.

Shauna G.
Best caramels I have ever tasted.

Laina F.
Even if you forget about them for 6 months they are still super soft and amazing

Trevor W.
I ate the whole bag. #notsorry

Dominique B.
THEY ARE SOOOO DAMN GOOD! Hard to stop after eating just 1!

Sonia B.
They are very addictive, can't just have one!!

Laverne W.
Gail Lou, Heidi Lou you guys KICK ASS!! 😍😍😍😍 Support small business, these guys are amazing, and their product is top notch.

Nicole M.
I bought the eggnog flavored ones and dang!! So amazing!!

Chantal M.
Sooooo good! Always gift my clients these this time of year 🎄❤️

Brittany P.
The absolute best. Like no other caramel I've ever had. I'm completely addicted. 🤤

Dana R.
We've been to their kitchen in red deer and had fresh ones and I swear it's worth the drive 😆

Nicole D.
They had free samples at a market thing once and i think i went back like a million times theyre so good

Logan A.
They are the best! I love the gingerbread ones they have out at Christmas

Stephanie M.
Our caramels are taste-bud approved and backed by real customer reviews
5002 50 St, Stony Plain, AB T7Z 1T2
+1 780.919.5284
Wednesday
10 a.m. – 4 p.m.
Thursday
10 a.m. – 4 p.m.
Saturday
10 a.m. – 4 p.m.